Thanks to everyone who made this trip possible!!  We held more trainings and met more new friends than we dreamed would be possible in two short weeks.  Our Strong Harvest Moringa Peer Educator training was so well-received that we already have requests to return to do more sessions.
We held six trainings this trip, when we had only expected to do three!  Below are some highlights.

2 separate sessions at Villa Esperanza:  One for the men who care for the grounds and are responsible for growing the trees and one for the house moms who live with and care for the girls.  They will be cooking with the leaves.  Both groups were very encouraged by the training and the men plan to plant more trees in order to provide leaves for the house moms to add to the girls' diets.
2 days at El Faro (The Lighthouse) Church Managua:  An enthusiastic group that included four primary school teachers.  They plan to use the training materials in their classrooms to teach the children about moringa and to grow saplings to send home with them!  They will also be teaching families about moringa in the new Managua dump village of Via Guadalupe.
An introductory training at El Faro Tipitapa Church (in the village at the Tipitapa dump):  We shared about basic nutrition and the nutritional value of moringa.  We saw a lot of under- and malnourished children in this village.   Many people already had moringa growing around their homes, but they had no idea what a rich food source it is.  This church has a feeding program that serves 160 children each day and the pastor, Gamaliel, plans to plant moringa to add it to their meals.  We will do a full 2-day training at this location on our next trip to Nicaragua.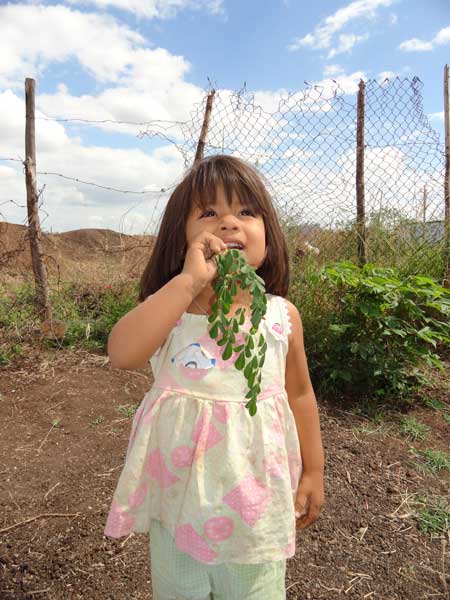 Another Tipitapa girl – chewing on moringa!  Yea!
2 days at the Luz y Vida (Light and Life) Church in Leon:  Leon was a beautiful city.  Founded in 1524, it is one of the oldest cities in Central America.  The Luz y Vida church is located about 20 minutes outside of town in an area where lots of sugar cane is grown.  The training group was fantastic, eager to learn with lots of great questions.  Their pastor, Dolores, is a powerhouse of a woman with dreams and plans that are being accomplished little by little and her impact is great.  This group planted moringa trees from cuttings at the church 6 months ago and now they are 15 feet tall!
2 days at the Iglesias de Dios (Church of God) in Jinotepe:  This was an additional training that we hadn't planned on doing, but when we met with Pastor Guillermo Herrera on our second day in the country and shared with him about our Peer Educator training, he was very excited about it and asked if there was any way we could do a two-day training for his church.  We rearranged our schedule and spent our last two days training in Jinotepe. 
What a great way to end the trip – the group was made up mostly of university students and teachers and they were a blast.  By the end, they were standing up in front of the group training each other!  Pastor Guillermo has lots of plans for how to use moringa in the community as well as in the church's feeding program for the poor children in the area.  He has asked us to return to provide training for pastors from the area.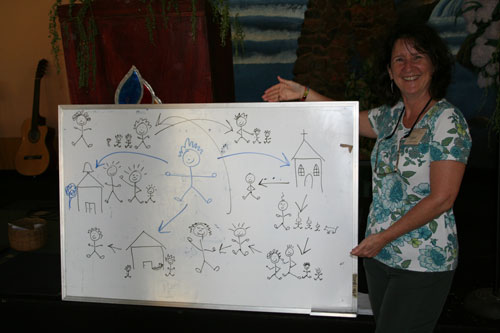 Jinotepe – Jeri's stick people improved by leaps and bounds by the end of the trip!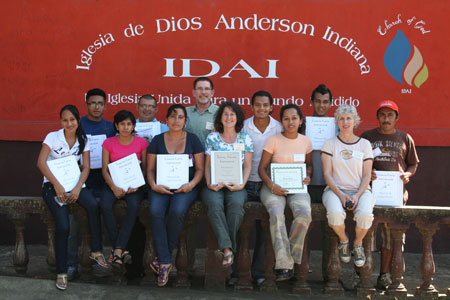 Jinotepe Church of God Peer Educators
Overall, we trained 63 people (our goal had been 30-40).  We need to give a shout out to our two translators, Harry Callejas and Lesly Herrera – we couldn't have done it without them! 
We made wonderful friends and many new contacts for further training.  We are looking forward to our next trip to Nicaragua to follow up with those we trained this time and to continue to spread the knowledge and benefits of moringa!