Strong Harvest's International Peer Educator Program
Peer education is the foundation of our work.  Through our training program, local participants become subject matter experts in basic nutrition and the cultivation and uses of the moringa tree.  They then share their knowledge within their own communities and beyond.  Peer Educator groups have ownership of their moringa project, allowing them to shape it in ways that meet their community's unique situation and needs.
SHI provides:
Hands-on training sessions and materials pertaining to moringa, nutrition, clean water, and economic opportunities.

Training kits to be used as our Peer Educators train others in their communities

Project planning assistance
Follow-up training and problem solving assistance

Financial literacy and small business training for those who wish to realize an economic benefit from their moringa trees

Identification of market pathways for the sale of moringa products

It is SHI's goal to share with everyone how the cultivation and use of locally available and sustainable crops, such as moringa, can be the foundation of a better life.
How do our Peer Educators impact the world?  See below for just one of our amazing stories!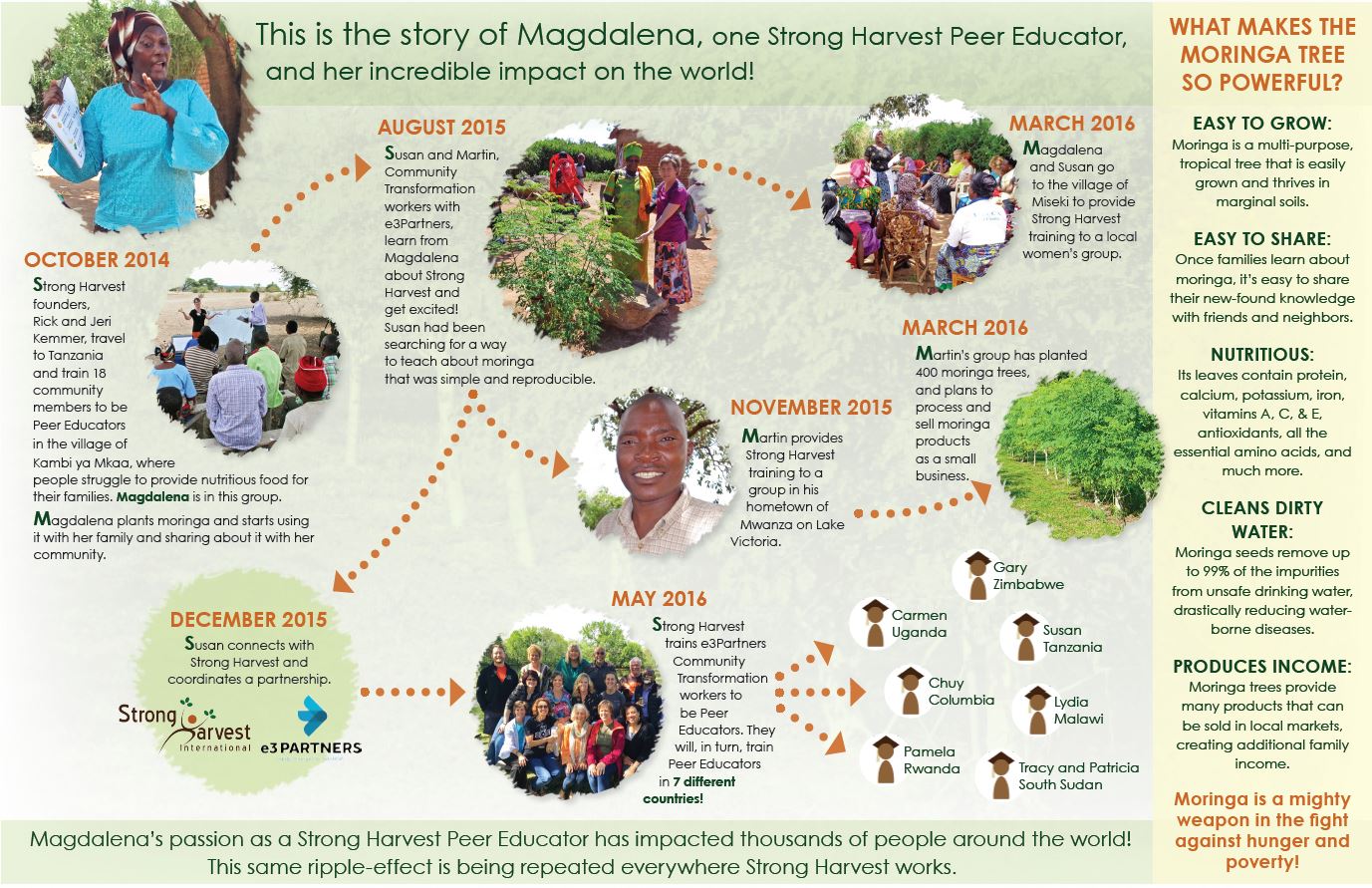 Strong Harvest's U.S. Peer Educator Program
As more people seek to have a significant impact in the world, Strong harvest offers the ability for everyone to participate in the global fight against hunger and poverty.  We hold two to three U.S.-based Peer Educator trainings each year, preparing people to teach others about basic nutrition and moringa and to then share their knowledge through Strong Harvest team trips or wherever they may travel on their own.  You can participate in a training seminar either in-person at our Vancouver, Washington, headquarters, or you can join us live online.  The cost is $80, which includes our full-color, 82-page training manual.  Learn more . . .

To see the amazing impact that you can have as a Strong Harvest Peer Educator, follow Ralph's journey to Togo below: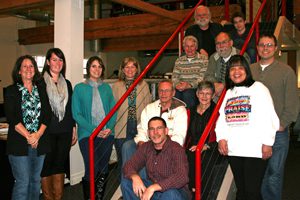 U.S. Peer Educator Training
Ralph (top row, on the left) attends a Peer Educator seminar in Vancouver, WA.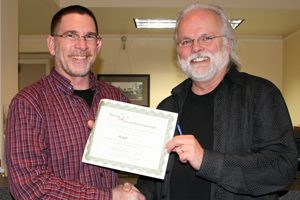 All Skilled Up
Ready to teach others about basic nutrition and how to grow and use moringa in the fight against hunger and poverty.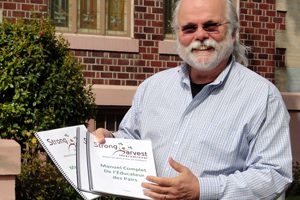 Manuals Translated into French
With our training manual translated into West African French, the information will be easily accessible to the people Ralph will train.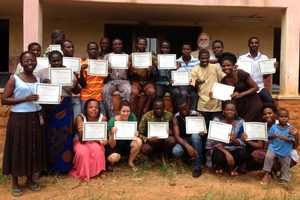 New Peer Educators in Togo!
Ralph, together with Jean (standing in front of Ralph) trained people from villages surrounding Noepe, Togo.  These newly trained Peer Educators took the knowledge of moringa and shared it with their own communities.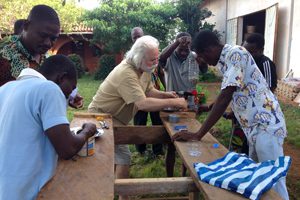 Advanced Training Session
Ralph works with some of the men on how to press moringa seeds to release the nutritious oil – one of the many moringa products that can either be consumed by the family or sold in the local market.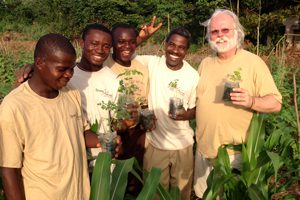 Planting Health and Hope
Jean (2nd from right), took his Strong Harvest Peer Educator training and ran with it!  He has now taught over 200 people in Togo, Benin, and Burkina Faso.  According to Jean, "When there is moringa in the dish, there is life in the dish!"
Thanks to Ralph, families in West African communities have been empowered with the knowledge they need to have rich nutrition, clean water, and additional income – all through the simplicity of the moringa tree!
 See what our Peer Educators are saying: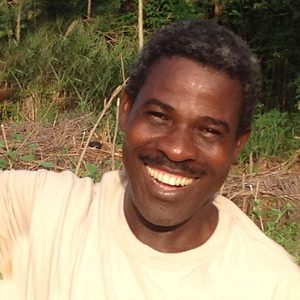 Jean in Togo
Jean has trained over 90 people in the West African counties of Togo, Burkina Faso, and most recently in Benin.  Jean tells us that "In the language of Dassa, Benin, Moringa is called 'langa langa' which means 'house of medicine.'  Why the name?  In the old days, moringa was grown close to the house and was used as medicine.  So in the house, we do not need to go far to heal."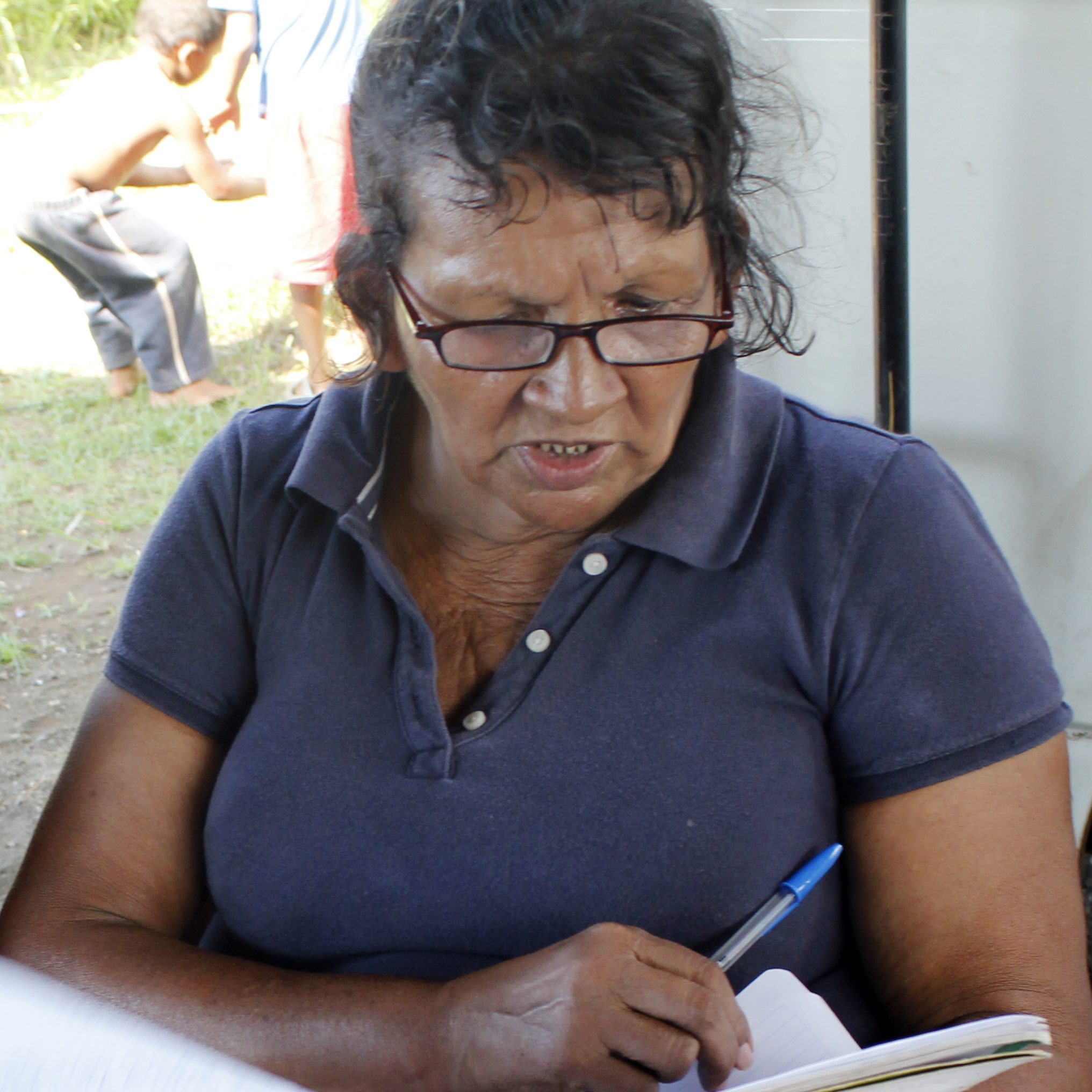 Isabel in Nicaragua
Isabel lives in a very poor village where malnutrition and sickness are rampant.  She told us, "Since receiving Strong Harvest training I've eaten moringa every day and my health has really improved."  Isabel took pages and pages of notes during her Peer Educator training and has put them to good use training dozens of people in her community.  She is making an impact!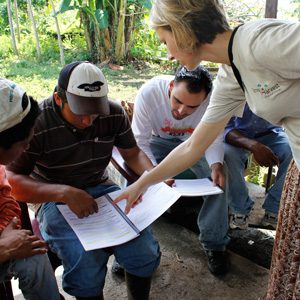 Megan in Vancouver, WA
As our translation coordinator, Megan coordinates the translation of our manual into various languages.  She also speaks Spanish fluently.  When traveling with Strong Harvest in Nicaragua, she helped to interpret our training seminars and shared with us one of her favorite things, "I just love it when I'm interpreting and I see people have that 'Aha!' moment when they really understand what moringa can do for their lives!"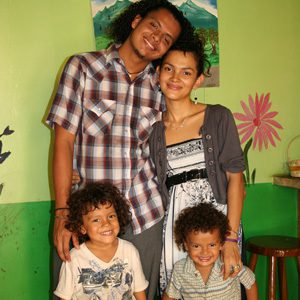 Lesly in Nicaragua
We didn't know when we first trained Lesly that his youngest son, Benjamin, was very sick and that he and his wife, Maria,  thought they might lose him.  When we saw Lesly again 10 months later he told us, "Since we started using moringa, Benjamin started improving.  He gained 10 pounds in three months.  Obviously, I know that God really healed him, but the moringa helped him to gain weight.  That's what is amazing for me and my family."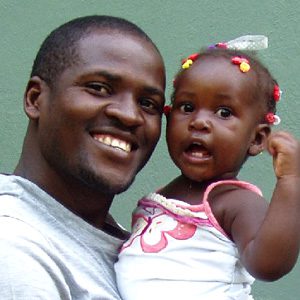 Fritzner in Haiti
Fritzner, a pastor in northern Haiti, has translated our manual into Haitian Creole and is sharing about moringa in his community of Lory and beyond.  "My main reason to spread the knowledge and ask Strong Harvest International to stand behind me is the importance of planting and using Moringa everywhere I go, because Moringa is the restoration tree for Haitian life."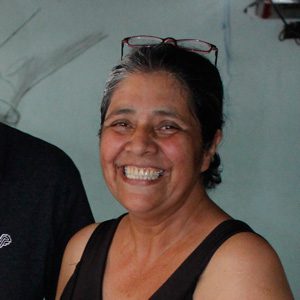 Miriam in Nicaragua
Miriam works with families who live in and near the city dumps and make their living as garbage pickers.  "We work in areas of extreme poverty.  We met Rick and learned about moringa and now we add it to soups, tea, meat, vegetables, gallo pinto, rice and beans.  I am waiting for the rainy season so I can plant trees so we can add moringa to all the feeding programs because it is such a blessing."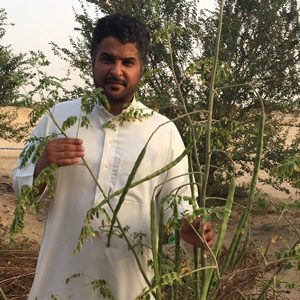 Saif in Saudi Arabia
Saif had already been growing moringa and giving trees away to his neighbors, but wanted more moringa information.  After he became a Strong Harvest Peer Educator we asked Saif what he was going to do with what he had learned.  Without hesitation he answered, "I am going to translate your training manual into Arabic so that more people will know about moringa."  He had the translation done within one month!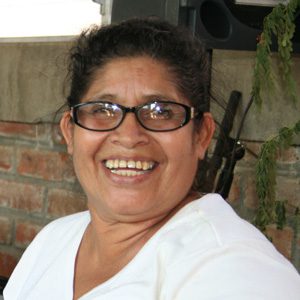 Dolores in Nicaragua
Dolores is a pastor and the headmaster of a small school in Leon.  Since becoming a Peer Educator she has started eating moringa herself and adding it to the kids' school lunches.  "Since adding moringa to the school lunches everyday, the children are able to concentrate better and are doing well on their tests."