In July a team of four Strong Harvest volunteers from Vancouver, WA, traveled with founders Rick and Jeri to Nicaragua to spread the moringa love together with our Field Representative, Lesly, and his wife, María. The team trained a new group of Peer Educators, did a Continuing Education Workshop, and visited in the homes of some of our moringa champions.
Here are a few of the highlights: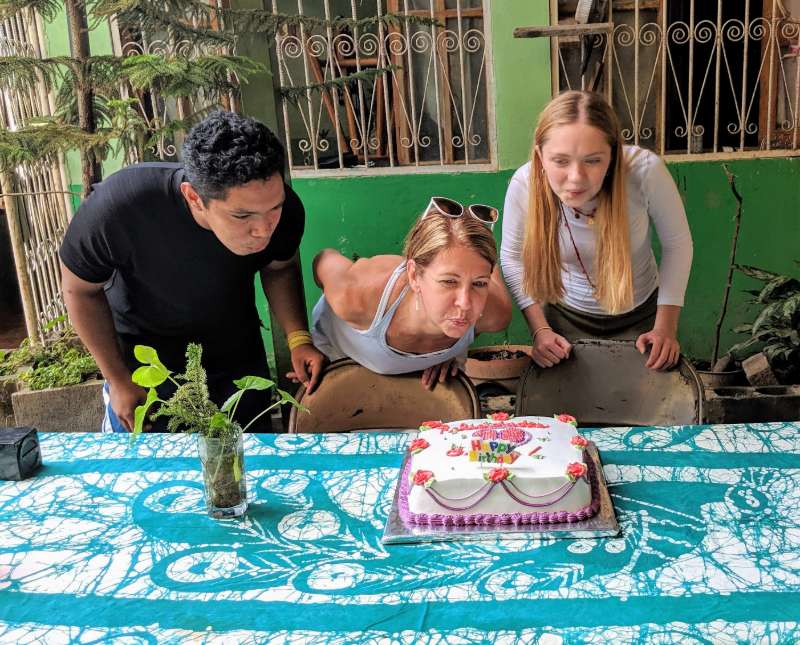 It all started off with a birthday celebration extraordinaire for Juan, Jennie, and Olivia, complete with piñata bashing and guava-filled cake.  So fun!!!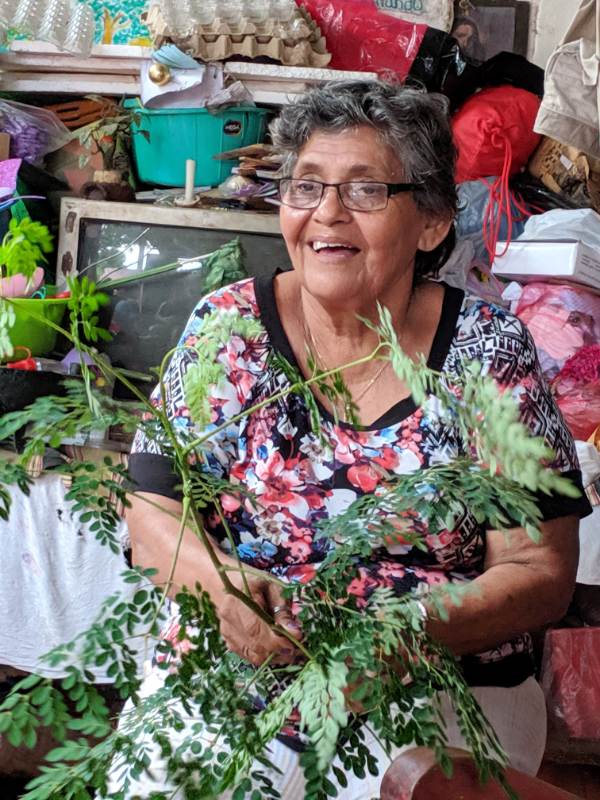 The team spent a wonderful time visiting Ana María, one of our Moringa Peer Educators in Granada.  She is impacting her community by teaching others about moringa for improved health, and working with abused women, as well as teaching the young men how not to repeat the violent patterns they have seen in their homes.  What an inspirational woman!!!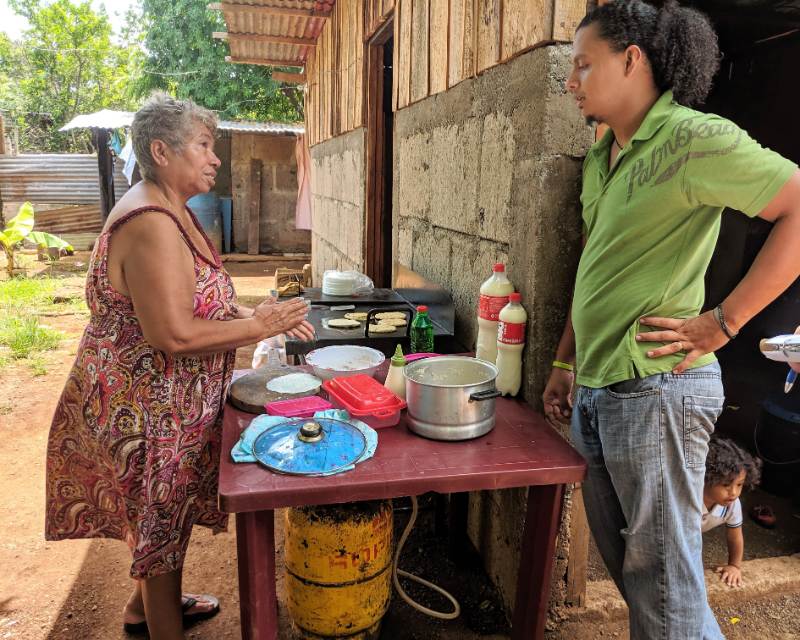 Then came a visit with Mercedes, a Moringa Peer Educator living in Cristo Rey-Tipitapa, and she made delicious moringa, cheese, chicken and pork pupusas for the team.  Soooo good!  (Her recipe is at the bottom of this post!)  It was inspiring to hear about the improved health her whole family enjoys due to eating moringa regularly.  AND, Mercedes is sharing with her neighbors.  In May, she invited 10 of them to her home and taught them all about moringa!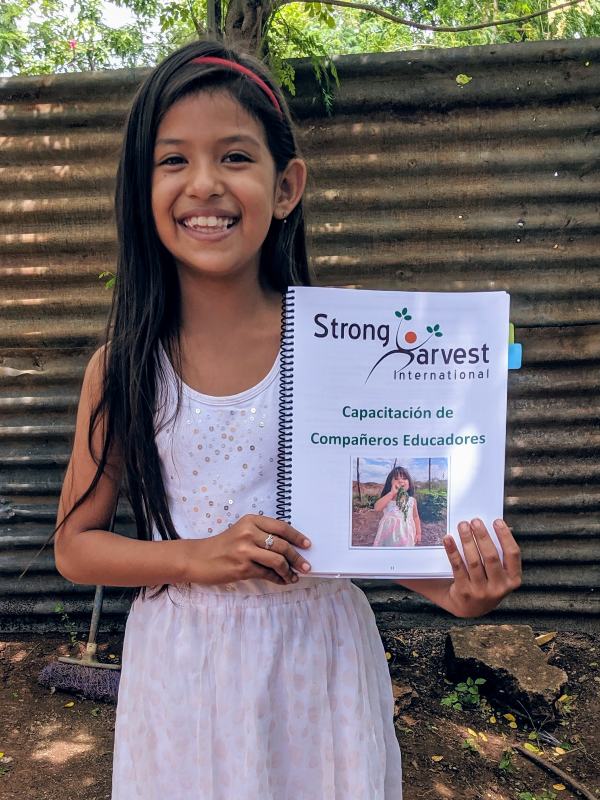 This is Camila, Mercedes' granddaughter, holding a photo of herself in our Strong Harvest Moringa Training Manual from when she was just 3 years old.  That's when her grandmother first learned about moringa and started feeding it to her family every day.  Look at Camila now – she is 9 years old and is growing up healthy and strong, and she LOVES her moringa!!!

There was a little breakdown on the side of the road on the way to Ometepe Island in Nicaragua…Thank goodness Lesly, our Field Representative, was able to get a replacement car quickly, and the team made it to the ferry in the nick of time!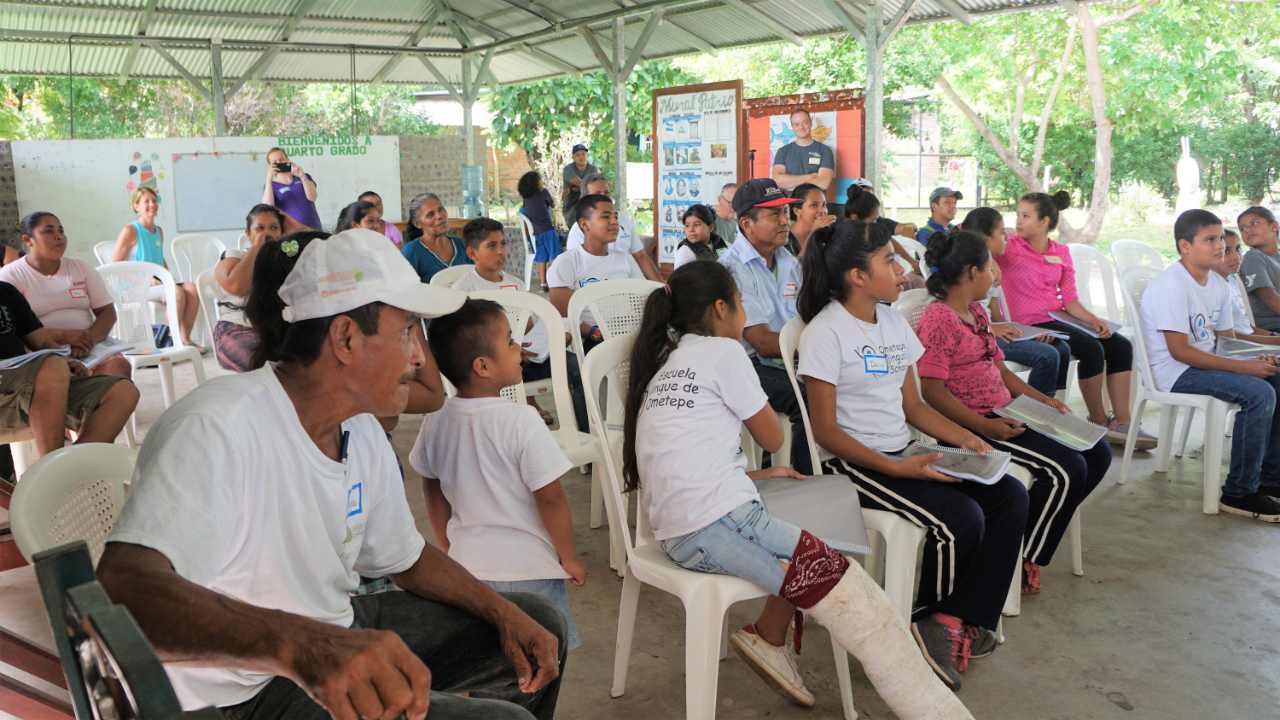 The first day of moringa training in Ometepe was an awesome day in such a beautiful place!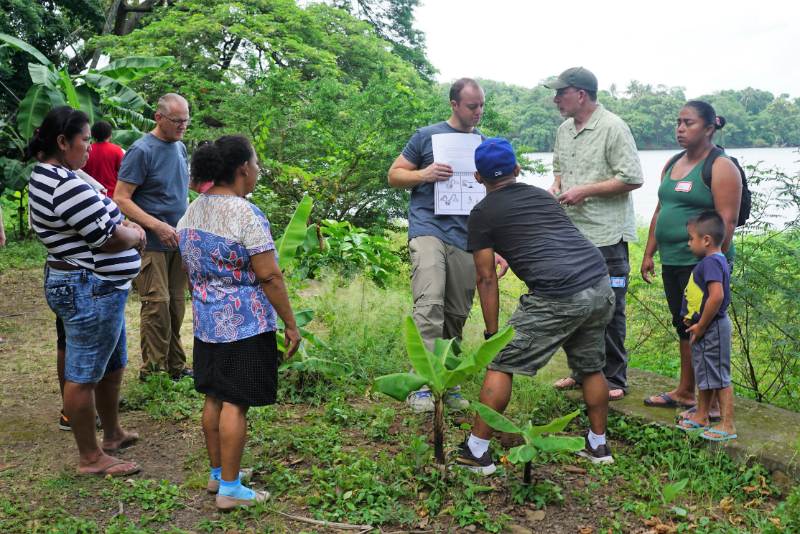 Hmmm…the question was how to best plant moringa in rocky, volcanic soil.  Strong Harvest team members, Dan and Rick, worked with the local folks to figure it out and everyone dug in to help, even the kids!  There will soon be nutritious moringa trees growing right outside the kitchen at the Ometepe Bilingual School.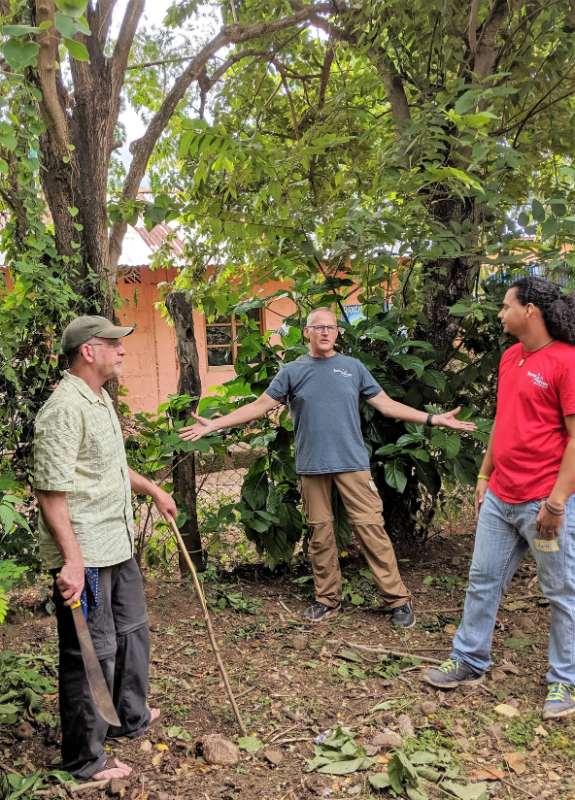 Pruning, pruning, pruning.  Bob shared that it's just like discipline.  No one likes to do it, but in order to have healthy, productive moringa trees, you must prune with gusto!  When you prune, you reap a harvest of leaves and your tree will produce an abundance of new branches.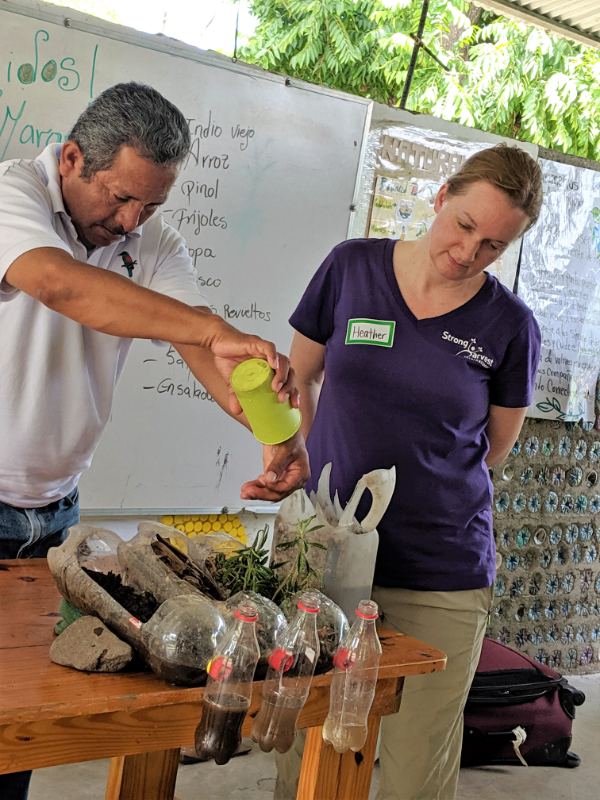 Planting trees is like planting rain.  In tropical regions, holding moisture in the soil during the dry season and holding the soil in place during the monsoon rains is of primary importance.  Alberto and Heather demonstrated how planting moringa trees protects farmers' land while providing amazing nutrition for the whole family!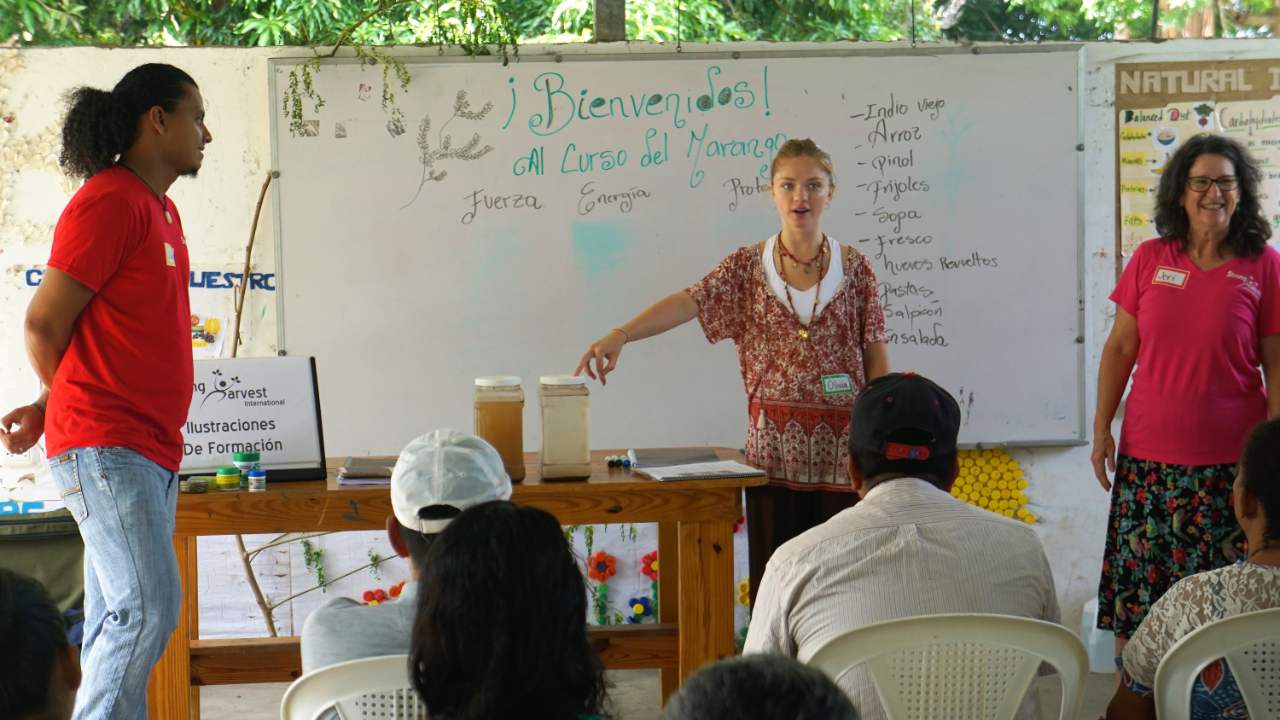 Really?!?  A tree can clean water?!?  It's true!  Olivia shared how crushed moringa seeds added to dirty water will remove over 90% of the impurities.  Moringa really is the "Miracle Tree"!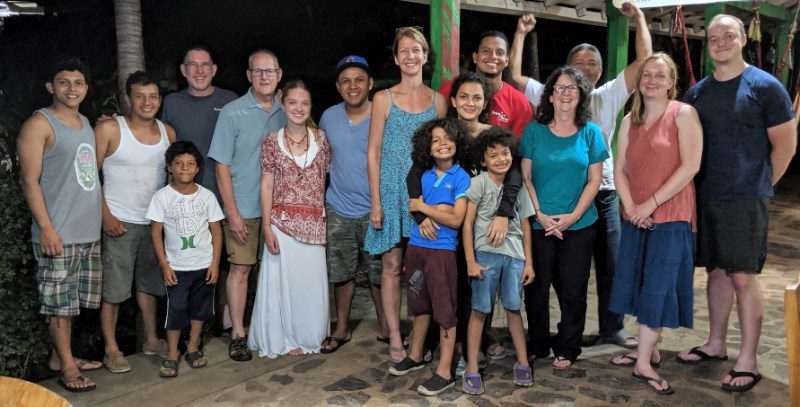 After 4 days, it was really hard for the team to leave Ometepe Island and even harder to say goodbye to Javier, Adonis, and Emerson (1st, 2nd, and 7th from the left in the group photo).  They helped our team so much!  Javier made sure the team members had everything they needed at Hacienda Mérida – good food, well-stocked rooms, a great training space, and hammocks. 🙂 Emerson and Adonis worked with Lesly to set up the training, found late-night food for a tired team, gave expert advice, dug holes, planted seeds and cuttings, wielded machetes, took the team kayaking, and are awesome friends!  We love you all and can't wait to see you again!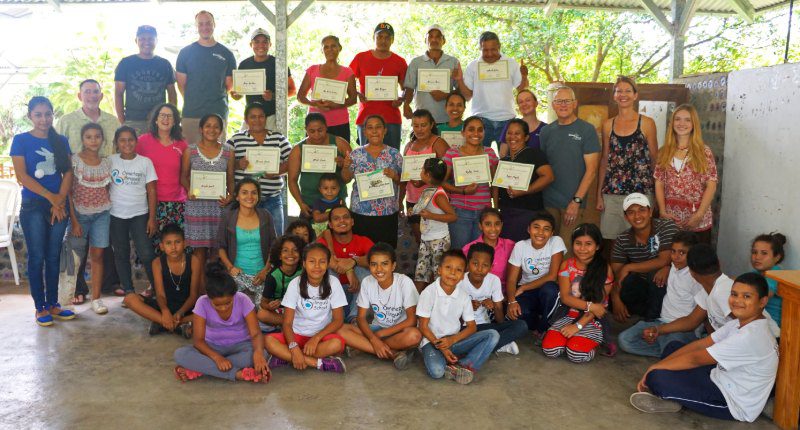 Ometepe Peer Educators – Welcome to the Strong Harvest Team!
The team had lots of other great experiences on this trip, but there's not enough space to share about everything.  Thank you to those who made change possible for so many families!
Rick and Jeri and the Strong Harvest Team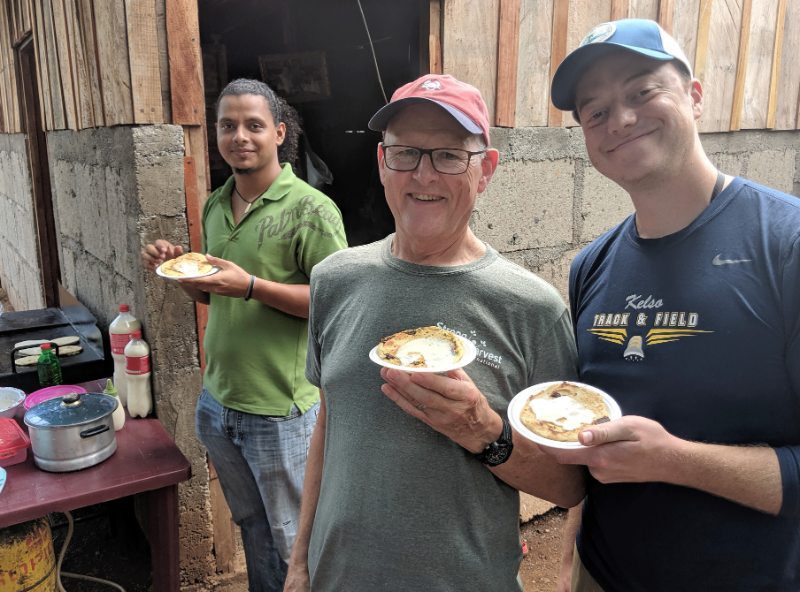 Here is Mercedes' pupusa recipe, if you would like to eat like our team did in Nicaragua!
¡Buen provecho!