Strong Harvest's volunteer Peer Educators have been making an impact around the world!
Peer Educators Jean and Ralph (4th & 5th from the left), with three of our new Peer Educators in Togo.
In the past 3 months, Strong Harvest's volunteer Peer Educators have gone to Indonesia, The Philippines, Zambia, Burkina Faso, and Togo, sharing and teaching about the amazing benefits of the moringa tree, which can be grown right in people's back yards, providing them with good nutrition, clean water and economic opportunities. Here's a few of their stories: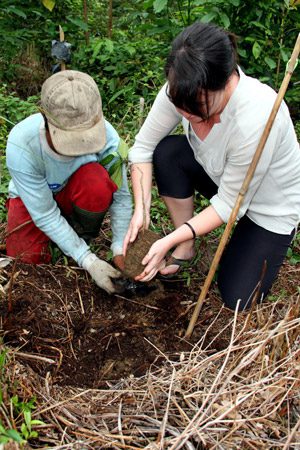 In April, Trina, who works for Health in Harmony, was in Indonesia working with families to help them find alternatives to cutting down the rainforests, which they use for income to pay for the basics of life. The people know that harvesting the rainforest is detrimental in the long run, but they feel that they have no other options. Trina believes that moringa can make a difference in these families' lives, providing them not only with good health, but also with a source of income to help meet their everyday needs and reduce the stress on the rainforests. Trina took the knowledge she gained from Strong Harvest, a bag of moringa seeds, and her Peer Educator training manual and generously shared them. We are excited to see what a difference moringa can make in the lives of these families! Thanks, Trina, for your dedication!
In May, Ralph went to Togo to work with his Togolese counterpart, Jean, who also became a Strong Harvest Peer Educator. Together, they held an amazing training for 23 people at the YWAM base in Noepe! The trainees learned how to cook with moringa, how to dry the leaves to make an intensely nutritious powder, how to clean water, and how to press the seeds for oil. These 23 trainees are now Strong Harvest Peer Educators who have returned to their communities to teach those around them how they can provide for the basics of life by simply growing and using moringa. Way to go Ralph and Jean!!

In June, Megan traveled to Nakonde, Zambia, to work at the Home of Hope Orphanage. She took Strong Harvest training manuals, as well as moringa seeds, and held a training session with Pastor Paul who oversees the orphanage. Rick has had numerous phone and e-mail conversations with Pastor Paul over the past year, and Pastor Paul is excited to start growing and using moringa to improve the children's health! Great job, Megan!!

We are thrilled to see our vision come into reality – people training people training people – there is no better way to learn than from those you know and trust! Our Peer Educators are empowering families around the world to provide the basics of life right in their own backyards.
THANK YOU ALL!!!