While at Villa Esperan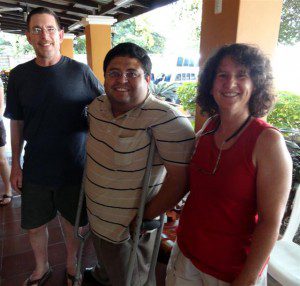 za in Managua, we also shared about moringa with Wilbert, the Nicaraguan director of The Villa (that's him in the photo in the middle), and he became very excited about it – his major in college was chemical engineering and when he saw the nutrient content of moringa he was amazed!  He wants to start growing it at The Villa to feed to the girls and to train others in its use.
He said that now that he knows about this tree, it would be wrong not to share it with others!  That is exactly what we've said to ourselves!  He plans to plant trees so that they'll be ready for Strong Harvest to return in 9-12 months so that we can provide training for the Villa Esperanza staff.
We're looking forward to linking The Villa and the villagers in La Chureca to a better life through moringa! Yea ~ Nicaragua here we come!