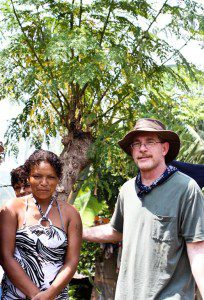 In May we [Rick and Jeri Kemmer, the founders of Strong Harvest] went to Nicaragua and let me tell you, we loved it!  It was very hot and humid – we had a few fabulous thunder and lightning storms – the kind where you think it can't rain any harder, but then it keeps raining harder and harder and harder!   Even though we'd never been to Nicaragua before, it was very much like stepping back into our African comfort zone.  To us, Managua was like an African city and a Latin American city all rolled into one – with the concrete construction, iron security bars, vibrant paint colors, street vendors selling everything, the smell of burning tires and diesel – we loved it!
We went there to work with families living in the Managua city dump and also with a girls home, Villa Esperanza (Village of Hope), which has been built by Forward Edge International, to rescue girls out of the dump.  So far, there are 24 girls living at The Villa.  The Nicaraguan staff of The Villa is doing an excellent job of meeting the challenges of caring for the girls and ministering to their families who remain living in the dump.
Our purpose in going was to learn about the basic needs of the people, to see if moringa may fit those needs, and to make connections for possible Strong Harvest work there.
As we walked through the village located in the dump (which is where the garbage pickers live) we stopped to visit with woman in front of her corrugated metal & cardboard home.  As I listened to her speak I noticed a tree behind her, my eyes traveled up the trunk and followed the branches until I finally focused on the leaves and realized with a start that it was a moringa tree!  Through our interpreter we asked her if she knew what the tree was and if she used it.  She couldn't remember the name of the tree, but said that she does use it – she boils the flowers to make a medicinal tea for her children when they're sick.  But, she had never heard that you can eat the leaves, press the seeds for oil, or do anything else with the tree.
We found that the trees were growing all over the village and that most people used them medicinally, but again, had not heard about any of the other amazing uses of the tree.
We were thrilled to see that people living in the dump are already using moringa (even in a limited way), as that shows that it is already seen as having value.  And that value creates an open door to teach about the many other uses of moringa!