It was an amazing six days! 
---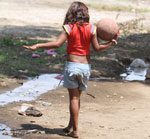 Last month I (Rick) returned to Nicaragua to follow up on the contacts we'd made last June regarding starting moringa projects there. This is the first of several posts about what turned out to be an incredible week!
As I'd shared in previous posts, we are working with Villa Esperanza in Nicaragua.  The Villa is a home (more like a small neighborhood) built by Forward Edge International for girls who have been rescued from living in La Chureca, the village inside the Managua city dump.
This trip started with a great meeting between me, Wilbert (the Nicaraguan director of the Villa), Rick Hooks and Israel Chen (who are working with the Villa on a tilapia/aquaponics project), and numerous Villa and Forward Edge staff members.   I found that Wilbert and the staff are excited to partner with Strong Harvest to implement a moringa project at the Villa!  We discussed the scope and particulars of the project and the plan for Strong Harvest to train the Villa staff in the care and uses of the trees.
In addition to working with the Villa, I also met with leaders from two local churches who are working with families living inside both the Managua city dump and the Tipitapa dump (just east of Managua).  These leaders see moringa as an excellent means to meet the needs of people who are living in abject poverty inside the dumps and face issues of malnutrition and/or unsafe drinking water each and every day.
I was also able to connect with a church in Leon (about an hour north of Managua) that is very anxious to introduce moringa to their area to help families who are experiencing basic life problems – lack of good nutrition and unsafe drinking water.  As you know, these problems represent two of Strong Harvest's basic goals – to provide people with a sustainable means of obtaining good nutrition and clean drinking water.  I could see that my time in Nicaragua this week would be well spent!!