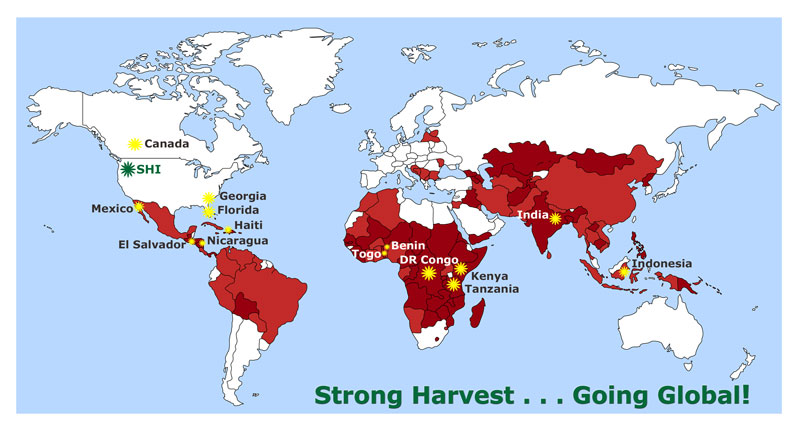 We are receiving requests from around the world for our Moringa Training Seminars, training materials and moringa seeds!  Over the past few months we've provided on-location Peer Educator trainings in Nicaragua and family training in Mexico, as well as beginning work with a children's home in Mexico.  In addition, we've sent training materials and/or seeds to all the stars on the map!
It is incredibly exciting to see our vision coming into reality!
People in Togo, Tanzania and Haiti are requesting that Strong Harvest come to provide Peer Educator Moringa Training to their communities.  And in Nicaragua, other organizations are asking us to provide training for the people they're working with. They see that growing and using the moringa tree can have a huge positive impact on the families in their areas!
Following up with on-location trainings in these places is essential and we need your help!  Imagine the amazing changes that will take place for families living in poverty who are able to sustainably attain excellent nutrition, clean water and economic opportunities right in their own backyards. 
Growing and using moringa breaks the cycle of poverty, but it can't happen without you!  Donate Today and make it happen!
Your Gift in Action:
$750 = 2-day Peer Educator Training for 10 people
$125 = 1 Set large-format training illustrations for group trainings
$  75 = 1 Peer Educator is trained
$  50 = 1 Family of 5 receives training
$  25 = 1,000 Moringa Seeds